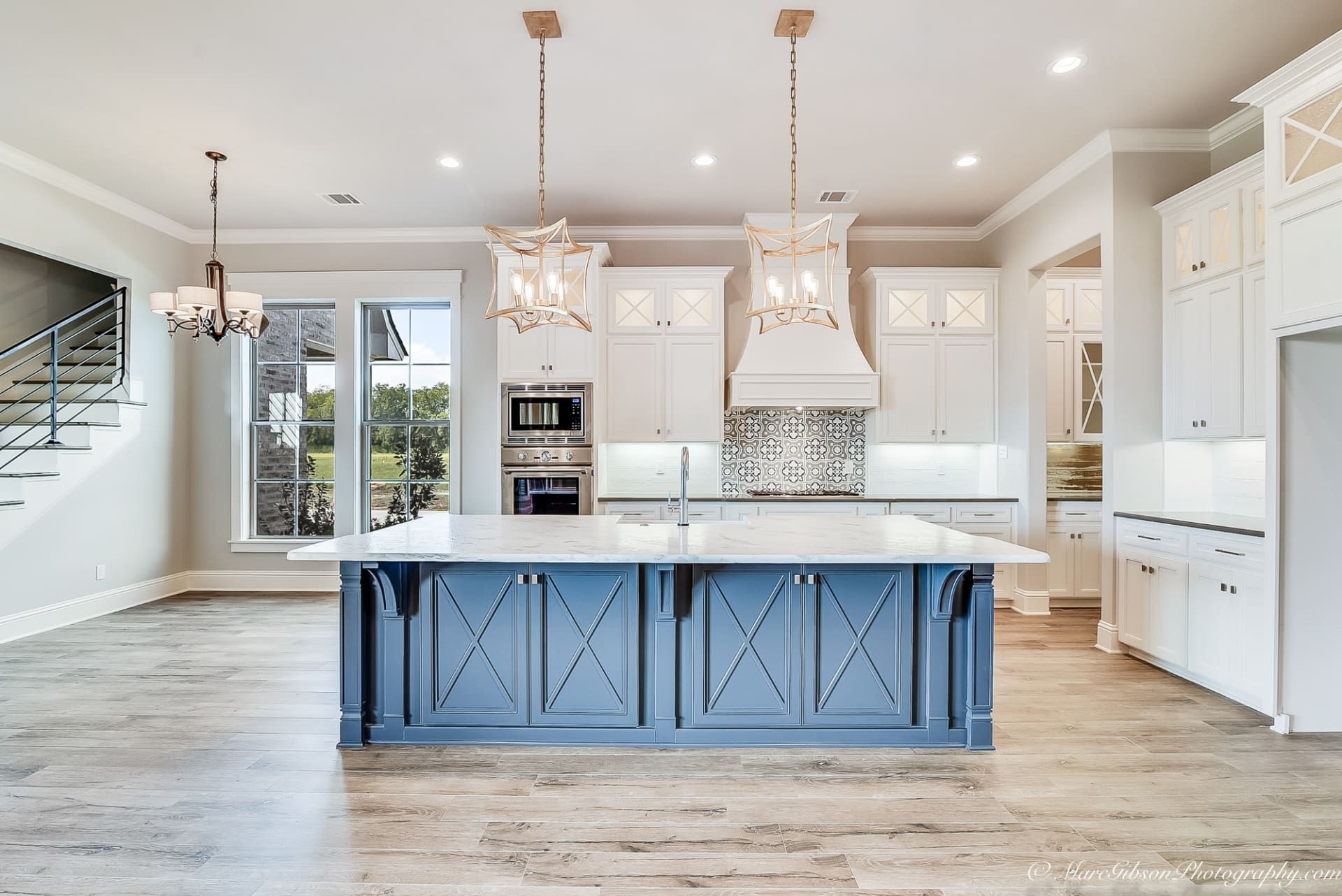 1. BAD PHOTOGRAPHS AND NO VIDEOS
In 2015, Microsoft published a study that found that the average person has an eight second attention span (that's less than a goldfish). This means you only have a few seconds to grab and keep the attention of a potential buyer, and the best way to do that is to have high quality digital images – and videos – to showcase your home. Dark and out-of-focus cell phone pictures just don't cut it.
Once you have the buyer's attention, you want to keep it. The Multiple Listing Service (MLS) allows real estate agents to post up to 40 images for each home. You can mimic this best practice by posting the maximum number of photographs of your home. And since most people only have an eight-second attention span, be sure to put the five best pictures of the home first so that potential buyers remain engaged and will continue to click through to see the other images.
With video accounting for 74% of all online traffic, it should also be a key part of the marketing strategy for your home. Whether it's a personal tour, or a simple list of the three greatest things about your home, video is crucial to providing the potential buyer with a complete picture of the home. And we're not talking about an animated slide show (though some agents do this too).
Good marketing includes professional videography, including aerial drone videography if applicable. Tammi Montgomery "Real Estate Experts" understands the importance of professional photographs and videos and is willing to invest the money in a professional photographer/videographer to showcase your home at its best.
2. NOT PREPARING FOR THE PHOTOS
Deciding to sell your home is the first big step. But before rushing to put it on the market, invest time to get your home ready for those so important photos.
Buyers want to be able to visualize themselves living in your home, so it helps to neutralize your space as much as possible. To that end, reduce the number of personal photos, mementos, and collections you have on display. Doing so allows buyers to imagine their own things in your home instead of getting distracted by your belongings.
A visit with a professional stager can also do wonders in helping you figure out how to optimize the use, look and feel of every room in your home so that it is the most appealing to potential buyers. If the home is vacant, staging helps potential buyers envision how they can live in and use the home. If, on the other hand, your home will be occupied when you are selling it, staging will help you develop a plan for decluttering, removing furniture, installing light landscaping, and so on. It's amazing the difference that staging can make in how a home looks and feels to a potential buyer.
Taking time upfront to get your home ready to shine in the photographs should save you time on the market later. Tammi Montgomery "Real Estate Experts" provides complimentary professional staging consultation as part of our marketing strategy!
3. FAILURE TO POINT OUT UNIQUE FEATURES OF THE COMMUNITY
Buyers aren't just buying a home. They are buying a lifestyle. Be sure to point out unique features about the community you live in. Is the home within walking distance to a school? Are popular restaurants nearby? Help the potential buyer understand what's great about living in the neighborhood. At Tammi Montgomery "Real Estate Experts", we know every home has a story - we tell your home and neighborhood's story.
4. NOT KNOWING HOW THE HOME COMPARES TO OTHERS
It pays to be aware of the competition that your home will face when it is on the market. Take a look around at the other homes for sale in your neighborhood and the surrounding neighborhoods. Pretend you're a buyer and compare your home to what else is on the market. If you can, take off the rose-colored glasses and honestly assess how your home's condition and location stack up. With this information in mind, you will have a better idea of how to price your home so that it is exciting to potential buyers.
Tammi knows the competition and will help position your home in the market to sell!
A home is most attractive to potential buyers when it is new to the market; it loses its shine the longer it is for sale. If you price your home too high at the beginning, you may miss a crucial opportunity to attract buyers. Even if you later lower your price, some buyers may remember they originally dismissed your home and not give it a second look. It's the equivalent of your home becoming shop worn.
Another common problem is to focus on charm pricing, usually numbers that end in nine. For example, it is common to list a property for $399,999 instead of $400,000. However, many real estate websites have price bands that end in whole numbers. For example, Zillow's price bands end in 0. When a home is priced at $399,999, it won't show in searches for buyers looking in the $400,000+ price range. Pricing the home at an even $400,000 would allow it to be seen by both buyers searching up to $400k AND those buyers starting their search at $400k. We will price your home correctly for the most exposure to buyers looking in a particular price range.
6. LIMITING THE HOME'S EXPOSURE TO POTENTIAL BUYERS
Homes won't sell if they aren't seen by potential buyers. Yet, some homeowners attempt to cut costs by selling their home on their own without the expertise of a Realtor. Similarly, other homeowners sell to an individual buyer before the home is ever officially marketed.
When you list your home for sale with a Realtor they will put the home in a real estate database called the Multiple Listing Service (MLS for short). Listing your home in the MLS offers the property the greatest exposure because it is actively marketed to all 1100 Realtors in the Shreveport and Bossier City area, and it is also usually automatically syndicated and displayed on third-party sites like Zillow or Trulia where it reaches an even larger audience of potential buyers. The data suggests more than 90% of Shreveport/ Bossier homes sell from the MLS. Withholding a property from the MLS significantly diminishes these marketing opportunities, and it often does not yield the highest price for the property.
7. DISREGARDING MODERN MARKETING TECHNIQUES
Gone are the days when it was enough to stick a for sale sign in the yard and put a home in the MLS. The average American spends 50 minutes on Facebook each day, practically one full day each month. Plus, 1 in every 5 mobile minutes is spent on Facebook and Instagram. Tammi Montgomery "Real Estate Experts" knows a comprehensive digital marketing strategy is necessary to reach potential buyers, and that includes paid advertising for your listing on popular social media platforms. We invest in your listing!
8. MAKING IT HARD FOR BUYERS TO SEE THE HOME
Like you, buyers have busy schedules. They want to see your home at times that are convenient for them, which means they may want to see your home at times that are inconvenient for you. Even so, try to allow every single showing that is requested. Keep the home presentable, remove any evidence of pets and leave for all showings.
Tammi will find out what the buyer thought of your home and make sure you get the feedback.
9. NOT PREPARING THE HOME FOR SHOWINGS
As you might imagine, messy homes with piles of laundry and a sink full of dishes don't show well. While your home is for sale, it is important to make it appealing to buyers. Make the beds, put away the laundry, wipe the counters, sweep the floors, and put your home's best foot forward. Don't forget that if you have pets you may be immune to their scent. Buyers likely will not be. Not sure where to start? Review our checklist for preparing your home for showings.
10. USING AN INEXPERIENCED OR AMATEUR REALTOR
There is no substitute for finding a Realtor who has sold homes in and around your neighborhood for many years. We've negotiated many deals where we've used a Realtor's inexperience or lack of knowledge of the local market to get an amazing deal for the buyers we represent. Don't let yourself be that person.
Pick a Realtor who has a track record of success and intimate knowledge real estate in Northwest Louisiana. You want someone who has experience with all aspects of our areas real estate cycle, who can easily navigate market fluctuations, foresee potential deal turbulence, who will aggressively market your home to sell, and has the skill to counsel you through the process. Tammi has the experience, expert market knowledge and negotiating skills to get your home SOLD!
THE BIGGEST MISTAKE OF ALL – LOSING PERSPECTIVE
You love your house. And you expect everyone else to love it too. It can hurt when a buyer doesn't love it as much as you do. And it can even be offensive when a buyer makes an extremely low offer. But in the long run, it doesn't matter what you paid for your home, how much you love it, or how much money you invested in renovations. The deciding factor is what a buyer thinks it's worth. Save yourself some stress and heartache by keeping things in perspective. Like you, the buyer is just trying to get the best deal possible. It's not personal.
WE HAVE WHAT IT TAKES TO GET YOUR HOME SOLD.
Call, text or email us for a no obligation, no BS consult on selling your home. DON'T SIGN ANYTHING, until you have talked to Tammi:)