If you bought a $200,000 house in Bossier City just last year, it's likely worth $217,200 right now due to the current upward trajectory of home values in our local real estate market (8.6%). That's an unheard of amount of appreciation—likely more than you can get through other investments. That's also why homeownership has long been considered a great hedge against inflation and an ideal way to secure generational wealth. Yes, homeowners in Bossier City have been enjoying this surge in equity, but, understandably, a lot of folks can't fathom how real estate values could continue rising—plenty assume the only realistic outcome is for the housing market to crash. If you were around during the Mortgage Crisis of 2007-2009, you likely remember just how drastically home prices nationwide plummeted back then.
Could something like the '08 crash happen again?
Not unless there was a sudden influx of housing inventory, and that's unlikely to happen due to current homeowners being secure in their homes and sitting on historically high equity. Millennials, currently the largest demographic of home buyers, need places to live and it'll be at least 1-2 more decades before the population of boomers begins to decline. Even if our region faced recession and job losses, it would be unlikely to cause a rise in new inventory in the near future. According to Mike Simonsen, CEO of Altos Research, when there's significant unemployment, it takes "at least another year out in the future before the real estate market sees the resulting inventory from people who've lost their jobs and are forced to sell their homes. And since we are at very low unemployment now… it would be at least 2024 or 2025 before we see an inventory surge." That point about low unemployment should be emphasized. Here in Louisiana, we are enjoying historically low unemployment—3.6%—and the median per capita income in our state is at an all-time high—$54,435.
Additionally, changes in lending practices now prevent situations like the Mortgage Crisis from happening again.
Back in 2010, subprime mortgages that fueled the housing bubble were outlawed with the passing of the Dodd-Frank Wall Street Reform and Consumer Protection Act. Now, lending standards have tightened. And although adjustable-rate mortgages are seeing a surge in popularity in 2022 due to the high interest rates, this doesn't mean a large percentage of mortgage holders will default on their loans and cause a crash. According to Jude Landis at Fannie Mae, "Improvements in underwriting, technology, and quality controls—some visible, some less so—have resulted in a fundamentally sounder mortgage system than before the crisis of 2008." These regulations ensure that borrowers demonstrate an ability-to-repay, and also protect them from predatory lending practices. Essentially, the mortgage industry is "fundamentally healthier" than in 2008.
Housing is getting unaffordable for many. Doesn't that mean a crash will happen and prices will come down?
The housing market in the Shreveport-Bossier City area has the unique advantage of being historically stable even during times of national uncertainty. Take a look at this chart of the Shreveport-Bossier City House Price Index for the last 22 years. Even during the Great Recession of '08, local home prices remained steady.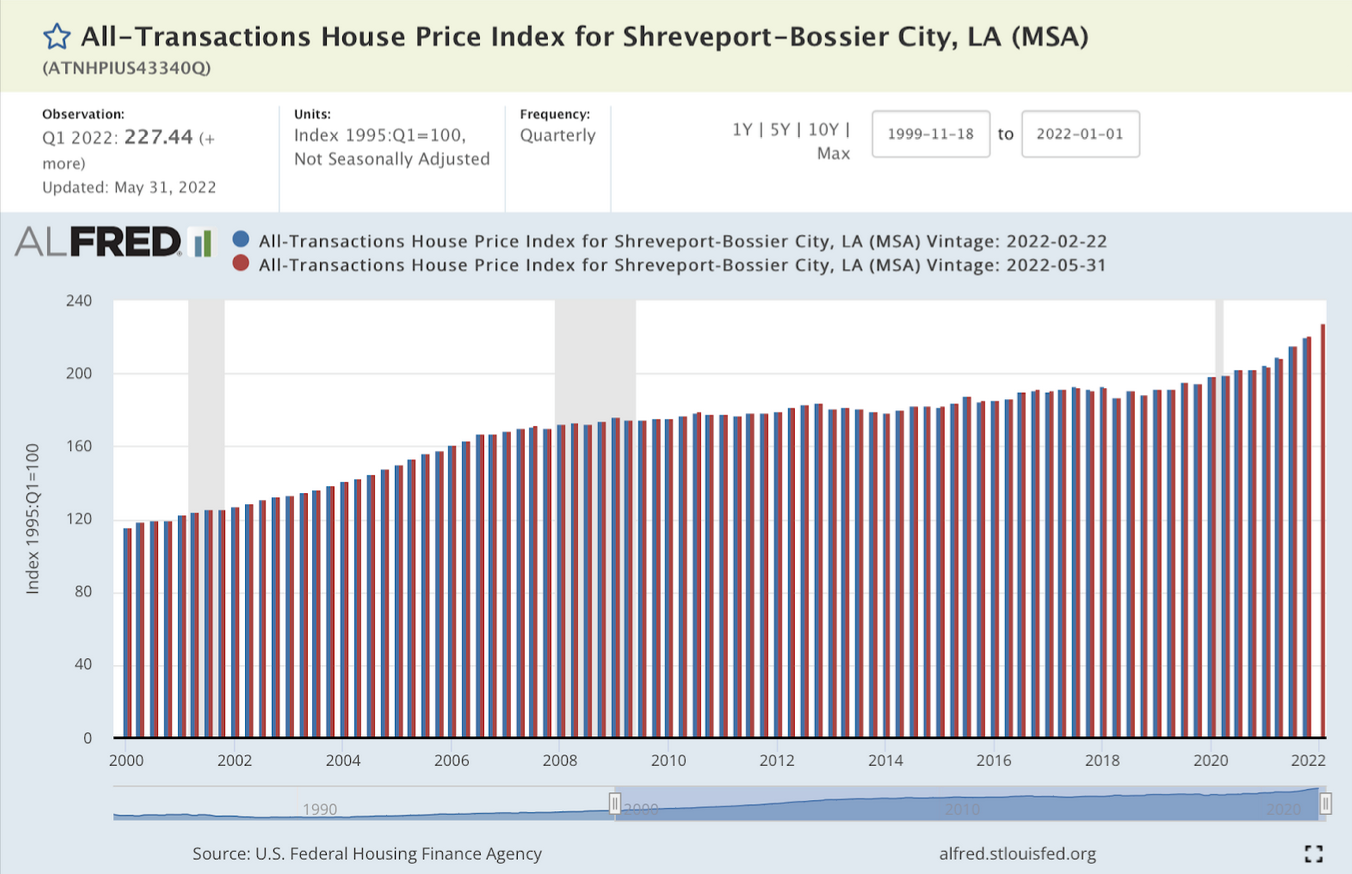 When you compare our region's slow steady upward growth to the national House Price Index, you see just how stable we are in comparison. When national prices dropped during that wide gray band that represents the '08 recession, Shreveport-Bossier City prices continued to steadily rise in contrast to the national price index.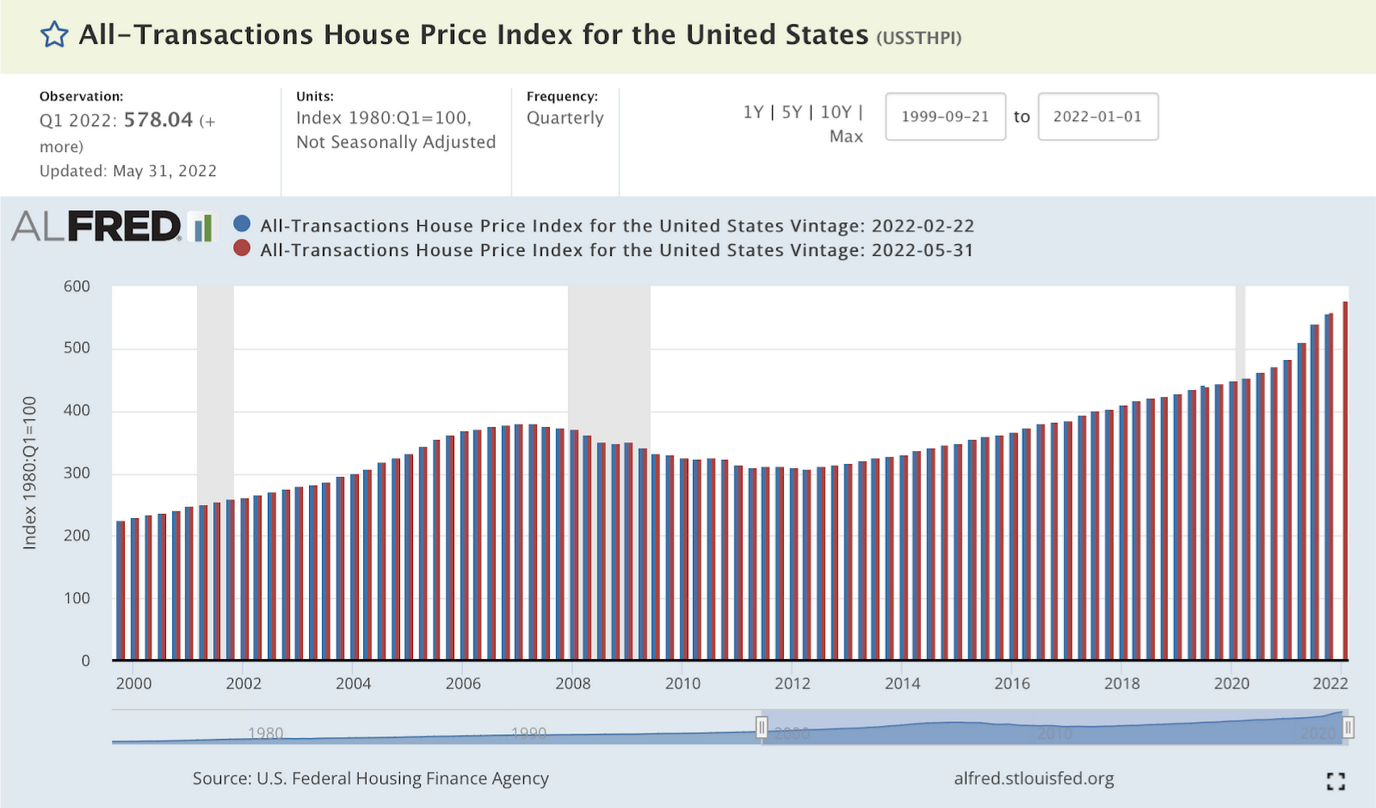 Another factor that contributes to our area's home prices remaining so stable is that many folks in our region have either paid for their houses outright or paid off their mortgages. Only 52% of housing units in Louisiana have a mortgage. The only states that beat us there are Mississippi with 50% and West Virginia with 46.7%—both states that boast extremely low foreclosure rates and also very low median home prices.
Considering the real estate situation on a national level, the trajectory of home prices points to a continual rise, though at a more moderate rate. As Lance Lambert at Fortune explains, "A housing bubble requires both a rush of speculators entering into the market and overvalued home prices." That's not what's happening in 2022. There's no "frenzy of speculation."
According to Mark Zandi, chief economist at Moody's, we're nowhere near risking any crash like in 2008 due to inventory being at a record low. "This is the exact opposite of the situation during the 2007-2008 housing bubble when vacancy rates were at a record high. Building supply will increase as supply chain issues iron out. Inflation has peaked [and] will be meaningfully moderating by this time next year." He predicts a "housing correction," with, at most, 5% to 10% price reductions in more "overvalued" housing markets.
In fact, in a recent Pulsenomics survey, only 20% of the economists questioned thought home prices could decline over the next five years.
According to the Center Square, "Foreclosure filings—a measure of the health of housing markets at local, state, or national levels—are on the rise across the country." This is an early distress sign. Citing data from Attom, "home foreclosure filings—which include default notices, bank repossessions, and scheduled auctions—are up 153% in the first half of 2022 compared to the same period last year. In Louisiana, foreclosures rose by 53.3%, from 1,222 in the first six months of 2021 to 1,873 in the first half of 2022."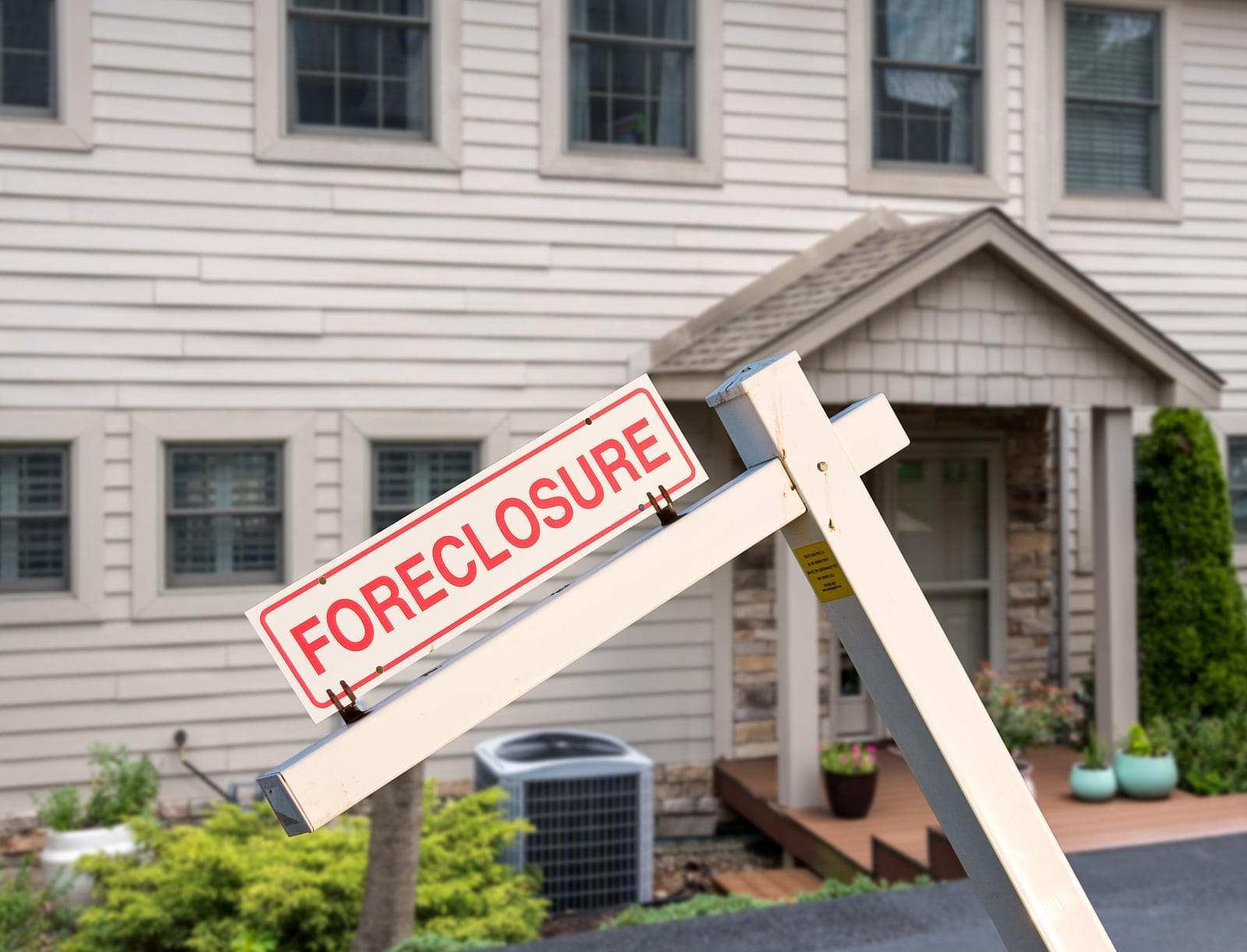 A 53.3% rise in foreclosures sounds like a lot, but considering the foreclosure rate in our state is so low—only 1 in every 1,107 homes enter foreclosure—any change is going to result in an apparently large percentage spike. When we compare our numbers to the top state for foreclosures, Illinois, where there is 1 foreclosure for every 385 housing units and 14,086 foreclosures in the first half of 2022, we're looking pretty good with only 1,873 foreclosures so far in 2022.
Another reason the housing market in Northern Louisiana remains so steady is because we have a very low cost of living. In Bossier City, the cost of living is 11.3% less than the rest of the country according to Salary.com. Additionally, we offer some of the most affordable housing in the nation, with housing costs in our state 37.9% lower than the national average.
What else are the experts saying about Bossier City?
For those seeking an affordable place to ride out inflation, Northern Louisiana is the place to be. In fact, Money magazine recently ranked Bossier City in its Top 100 Best Places to Live in the United States—the only city in Louisiana to make the list. Called one of the "fastest-growing urban centers in the state," Bossier city was praised for its "ongoing infrastructure improvements, a low cost of living and rich local culture." Additionally, Bossier City ranked 15th among the top 100 best places to live in terms of affordable housing and rounded out the top half of the rankings in terms of job growth.
All signs point to Bossier City being a good place to grow your wealth via homeownership, and a recent analysis from CoreLogic found that Bossier City is actually in an area with a very low chance of home prices dropping. In this map put together by Fortune using Corelogic's data, you'll see that Bossier Parish falls into the "very low" range with only a 0-10% chance of a price dip over the next 12 months—an assessment based on factors such as income growth projections, unemployment forecasts, consumer confidence, debt-to-income ratios, affordability, mortgage rates, and inventory levels.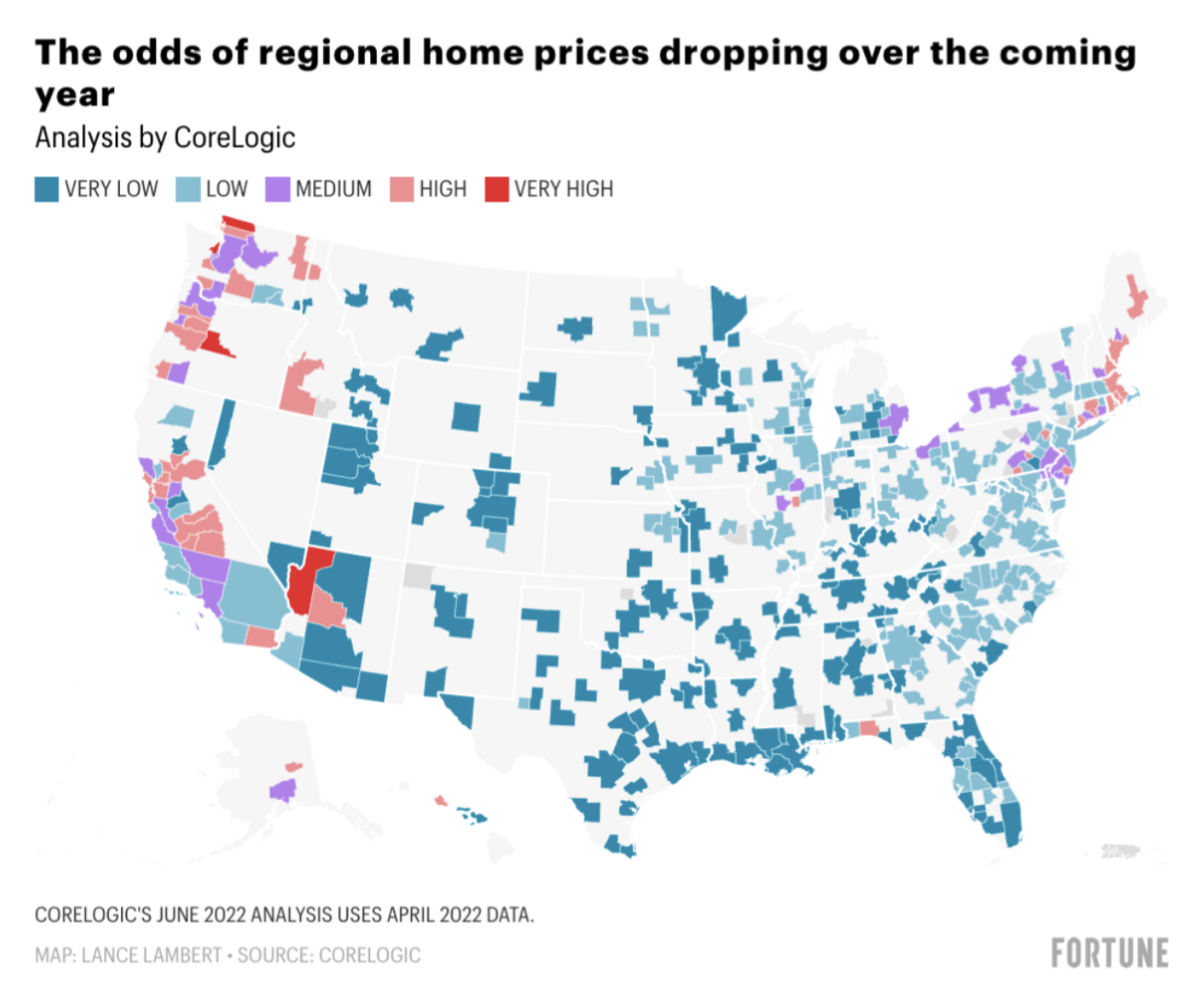 The most important factor: you and your goals.
A 30-year fixed-rate mortgage has long been considered an excellent hedge against inflation. If you're planning to buy your forever home, short term dips and downturns won't matter. Looking at the numbers from Robert Shiller, who put together a database of U.S. home prices from 1890 to present, you'll see that the total return on investment for housing is .5% above inflation year over year since the end of the 19th century. If where you live is going to end up earning you even a small amount every year, that's undeniably a better deal than paying someone else's mortgage—which is essentially what happens when you pay rent.
Need answers to more questions about the housing market?
The Tammi Montgomery Real Estate Experts have a plan for every real estate situation. We make it our mission to help everyone achieve their real estate goals. Buying, selling, or need more information? Contact our team today and let us help!
When you're ready to get started on your homeownership journey, we're here. Give us a call at 318-540-6108 to schedule a time to chat.