Thinking of buying a home soon?
For many people, buying a home is the biggest investment of their lives. Before you get too excited and leap head-first into your home search, here are some steps to get started:
Understand the current market

Check your financial situation

Team with an experienced real estate agent
What's the market looking like for buyers right now?
Home prices are dropping nationally as buyer demand slows due to high mortgage rates making monthly housing payments challenging for many would-be homeowners. Here in Louisiana, Redfin shows the Median Sale Price has dropped 6.3% year-over-year, but in Bossier City, home prices have gone up 9.4% and our current median price is $238,000—that's $8,800 more than the state median!
Looking at economic data from the St. Louis Fed, house prices in Shreveport-Bossier City have been continuing to rise (up 13.24% since this time last year), but we've also seen an uptick in the median Days on Market (56 versus 52 back in 2021), indicating demand from competing home buyers is slowing slightly, even as the amount of inventory (represented by active listings) has been increasing. Let's break down what that means for those interested in entering the market.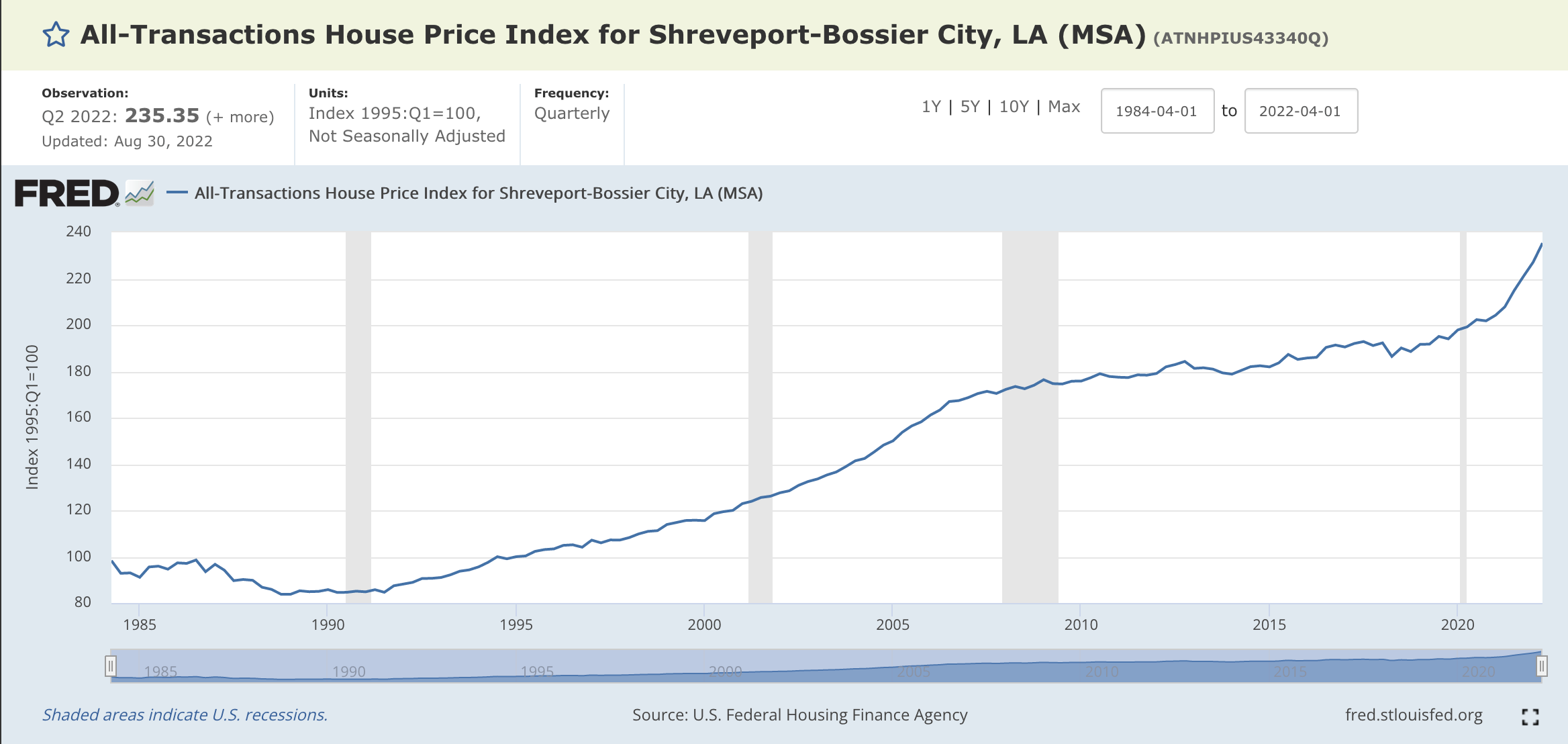 Is it a buyer's market or a seller's market?
Data from Redfin shows that in Shreveport the average home sells 3% below the listing price, and Redfin gives it a Compete Score™ of 50, indicating the area is "somewhat competitive." Bossier City, meanwhile, has the average home selling for about 2% below the listing price, and a Redfin Compete Score™ of 68, which is also considered "somewhat competitive." That distinction indicates that some homes in the area receive multiple offers.
So while our area is tipping into a market that is leaning toward favoring buyers, sellers are in a strong position—they're comfortable in their homes, have accrued a great deal of equity in the post-pandemic years, and are hesitant to list their homes and possibly give up the low mortgage rate they locked in years ago. That means buyers don't have as much choice, and home prices remain rising due to low supply.
But inventory is rising, right? So isn't that good news for buyers?
Even as inventory is rising (slightly), some buyers are still being squeezed out of the market due to high mortgage rates. According to Forbes, "Surging rates have tacked on $337, or 15%, to the typical monthly mortgage payment over the past six weeks alone and pummeled housing demand nationwide as a result—so much that prices have started to slip from record highs in some markets over the past few weeks." That monthly payment is now hugely unaffordable to many, causing many potential buyers to sit on the sidelines.
And that rising inventory? It's not as much as needed to get back to a typical, pre-pandemic housing market. If you take a look at the chart shared earlier in this post from the St. Louis Fed, you'll see that while active inventory is up to 822 listings in our area as of September 2022, and that's up from 785 the previous year. That may seem like a substantial increase in inventory, but when you compare it to the pre-pandemic average of 2042 active listings in September from 2016-2019, you'll see that we are 59.7% lower than where we need to be. That low inventory is keeping prices high, and especially when paired with high mortgage rates, it's making the situation difficult for buyers.
Should aspiring homeowners even buy a home right now?
A resounding yes! The advantage of the Shreveport-Bossier City area is that it's historically been a stable real estate investment even during times when housing downturns have rocked the rest of the country. Take a look at this chart of the Shreveport-Bossier City House Price Index for the last 22 years. Even during the Great Recession of '08, local home prices remained steady.
When you compare our region's slow steady upward growth to the national House Price Index, you see just how stable we are in comparison. When national prices dropped during that wide gray band that represents the '08 recession, Shreveport-Bossier City prices continued to steadily rise.
Steady real estate value appreciation, paired with our area's low cost of living, means home homeownership is a smart investment in Shreveport-Bossier City.
I want to buy a home. What do I need to know about my finances?
Start by checking your credit score to get an idea of what kind of mortgage you may be eligible for. Next, take an honest look at your finances and calculate how much you can afford for a house. Getting pre-approved for a mortgage also puts you one step ahead of the crowd. Once you have a firm figure in mind, choose an agent that communicates well and discuss the most important elements of your ideal home. Real estate agents specialize in knowing the market, what may be listed soon, and locating what you desire.
But what about the current high mortgage rates?
Those who are fortunate enough to be able to afford a down payment, contribute more toward that initial down payment, or purchase discount points, have the opportunity to purchase that ideal home now if it happens to become available. And what a great time to do it—since inventory is rising and buyer competition is low at the moment.
Here are a few other options for reducing the cost of your loan:
A 30-year mortgage will cost you more due to interest. So if you want to save money over the long run, get a 15-year mortgage. It means a higher monthly payment, but a lower cost in interest over the long run.
Adjustable-rate mortgages (ARMs) offer lower monthly payments in the beginning, so if you anticipate having more income or the ability to refinance later, they may be a financing tool to look into.
Discount points are a way to pay less per month. By buying discount points, you're basically prepaying some of the interest the bank charges on the loan. In return for prepaying, you get a lower interest rate which can lead to a lower monthly payment and savings on the overall cost of the loan over its full term.
Pay more now, refinance later
If you have a conventional mortgage, you can usually refinance into a lower interest rate as long as you've been making your payments regularly, keeping your credit score high, and maintaining your home in good condition for an appraisal. So, pay the high mortgage rate for a while, and then refinance once mortgage rates drop again.
Let your real estate agent connect you with the professionals here to assist on your home-buying journey
Home buying is a bit more complicated than simply walking into the real estate office and picking out a home. When purchasing your first home, you will need to utilize various professionals during the process. Real estate agents often have an extensive network of connections that could be useful to buyers. They will be able to recommend the perfect lender if you haven't yet secured one. After that, you'll want an inspector to check for possible repair issues and an appraiser to value the property.
It sounds like a lot, but a connected agent will help you every step of the way.
Whatever your home-related needs, you can count on us to be there. The Tammi Montgomery Real Estate Experts are a team of experienced realtors here to help you find a place you love or sell your home as quickly as possible. Let us know your needs. We'll make a plan that's right for you.
Thinking of moving to Bossier City and want expert insight? Give us a call at 318-540-6108 and we'll chat!