The housing market is currently in the first national home price decline since 2012, and the recent pullback is causing many to wonder how much further home prices will drop. Nationwide, home sale prices fell from May 2022's record highs, and plummeting numbers in new mortgage applications indicate near-future stagnation in buyer interest—undoubtedly fueled by recent spikes in mortgage rates which are making monthly housing payments unaffordable for many.
In Bossier City specifically, the Median Sale Price has fallen 5.6% since this time last year—good news for buyers who are eager for a break into the tight market. Some potential home buyers, though, are opting to "wait out the market," either because they're hoping home prices will fall further or they want to see what changes will occur in the coming months. Experienced investors see that now might actually be a great time to strategize a real estate purchase due to housing being a historically beneficial hedge against inflation. But there's more than one reason why "wait and see" isn't a smart strategy for handling your most important investment asset. Let's break down why planning, not waiting, is a much better strategy for financial and personal success:
For buyers and sellers, you're missing out on great opportunities if you're not communicating with an agent about your goals
As real estate agents, we're always heartbroken when we have to tell a new client: "if only you came to us last month!" because the ideal house got scooped up by someone else.
An experienced real estate agent has a network of connections as well as specific knowledge about what constitutes a good deal both within the community and within current market conditions. As soon as you know that buying or selling a home is something you'd like to pursue in the next year or so, talk to an agent right away. That agent can then strategize the timing of your home's listing, or—if you're a buyer—send you homes that meet your needs at the price you're looking for. You can certainly afford to be picky and decline the home that isn't perfect for your needs, but nothing beats knowing about all opportunities when they become available.
By the way, if you're a seller not sure what your home is currently worth in comparison to its original purchase price, definitely reach out to the

Tammi Montgomery Real Estate Experts

and let us put together a Comparative Market Analysis for you.
Buyers should know that time in the market beats timing the market
According to CPA Amanda Han in a recent Forbes article, "In 2022, the average interest rate in a checking account is 0.03%. In a year that's seen over 8% inflation, it doesn't take a mathematician to realize that your money can't win the game from the bench. While inflation punishes those who wait, it rewards those who invest in appreciating assets like real estate. Not only does real estate create a recurring revenue stream, but it tends to hold its own against inflation through appreciation." Even if housing prices do dip in the months following the purchase of your dream home, that won't matter if you plan to stay in the home for more than five years.
Historically, a 30-year fixed-rate mortgage has long been considered an excellent hedge against inflation. If you're planning to buy your forever home, even substantial downturns won't matter. Looking at the numbers from Robert Shiller, who put together a database of U.S. home prices from 1890 to present, you'll see that the total return on investment for housing is .5% above inflation year-over-year since the end of the 19th century. If where you live is going to end up earning you even a small amount every year, that's undeniably a better deal than leaving it in cash or throwing it away in a monthly rental payment.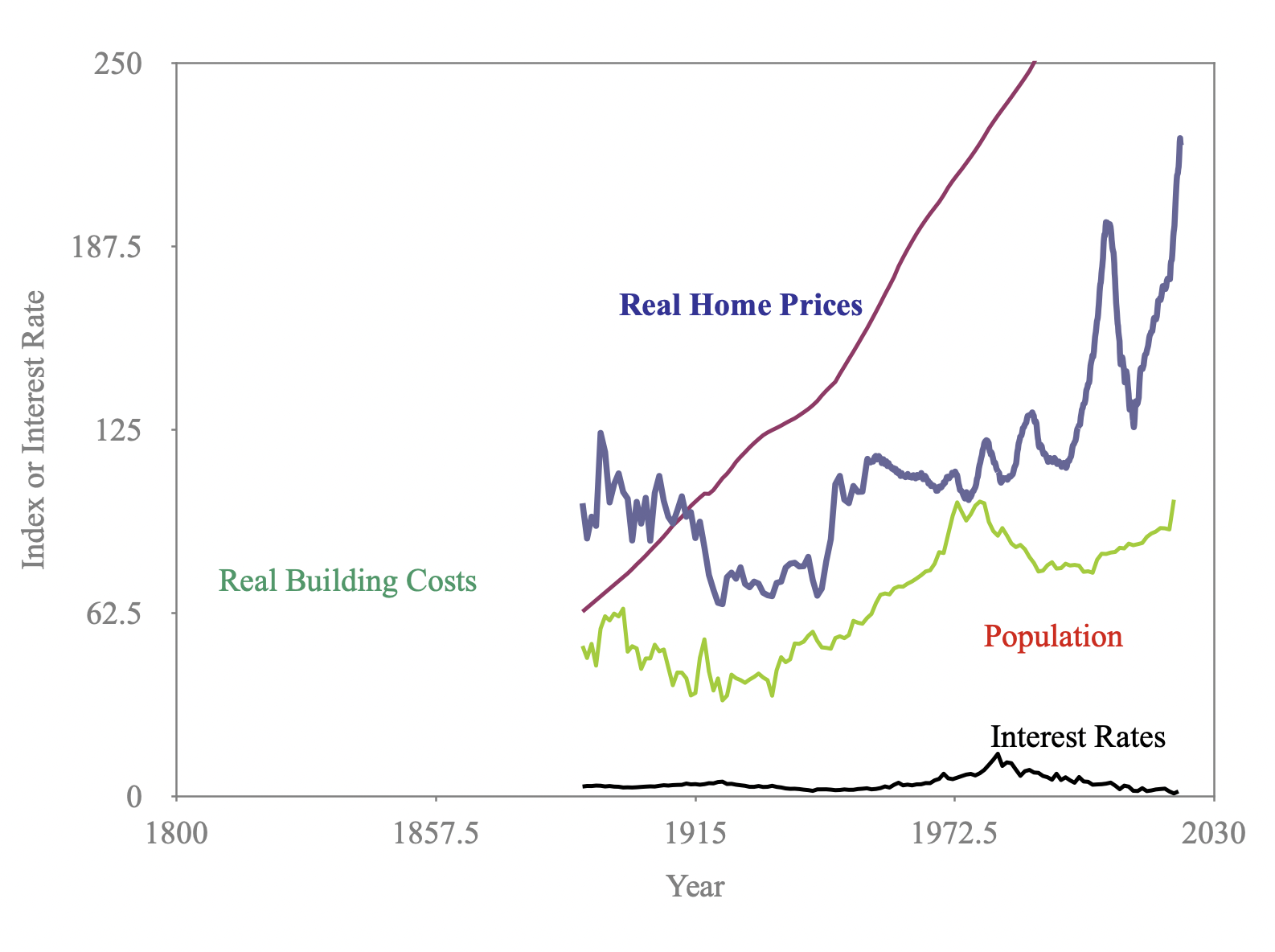 Rents go up for tenants, but mortgage payments stay the same
If you're stuck in a rental while you're waiting to see about timing the market, you're subject to rising rental rates. Your payments on a 30-year fixed-rate mortgage, on the other hand, will stay the same over the life of the loan—and if you get the chance to refinance at a lower interest rate in the future, you could even lower your monthly payment.
And if you get into homeownership now as a landlord, rising rental rates could benefit you. CPA Amanda Han says, "As housing prices rise, more consumers are looking toward renting rather than buying. Real estate investors can capitalize on this increased demand by charging higher rent while retaining lower mortgage payments. Not only does inflation create higher rental incomes, but it also creates new renters—a combination that real estate investors can benefit from."
Homeowners enjoy immediate tax benefits as soon as they make their first real estate purchase
Homeowners also enjoy many tax benefits unavailable to renters. Some of the tax breaks property owners can enjoy include the ability to deduct mortgage interest, home equity loan interest, discount points, necessary home improvements, home office expenses, and mortgage insurance.
As a landlord, you can write off many of the expenses related to your investment properties, and you won't have to pay taxes on any capital gains until you sell.
Additionally, Amanda Han says, "One of the most popular tax benefits for real estate investors is the ability to defer capital gains tax using a 1031 exchange. This tax benefit allows you to sell one investment property and defer the capital gains tax by immediately purchasing another investment property."
If you "wait and see," you may miss both the tax benefits and the chance to increase your net worth via homeownership.
The Shreveport-Bossier City area is a great place to ride out inflation
Historically, the Shreveport-Bossier City area has enjoyed a very stable housing market, even during times of economic uncertainty. Take a look at this chart from the St. Louis Fed:
As you can see, those who have stayed in their homes for the last 30+ years have enjoyed consistent gains over the long term. And for those seeking an affordable place to ride out inflation, Northern Louisiana is the place to be. Bossier City, in particular, offers some of the most affordable housing in the nation, with housing costs in our state 37.9% lower than the national average. Additionally, the cost of living here is 11.3% less than in the rest of the country according to Salary.com. For this reason, Bossier City is an ideal location for first-time homeowners to dip their toes into the rewards of owning real estate—a form of investment that's becoming increasingly out of reach in the rest of the country.
But what about those high mortgage rates? Should buyers wait till they drop?
Many expert real estate investors prefer to buy a lower-priced home at a 7% interest rate, rather than a higher-priced home at a 3% interest rate. Why? You can always refinance when rates drop again, so it's better to take advantage of the reduced buyer demand that occurs when interest rates are high and lock in the perfect property at your ideal price point. And these current high mortgage rates are why Amy Legate-Wolfe at Yahoo Finance says "2022 might be the lowest prices you see for some time."
Are fears causing you to wait and see?
A fear many have with selling first and then entering the market as a buyer is the 'limbo' shoppers find themselves in—what if they aren't able to secure their next home right away? What if rising mortgage rates price them out of upgrading their living situation? Meeting with an agent who can help you formulate a plan that works for you within the current market conditions is a much better approach than "seeing what happens." Chances are, an experienced agent can end up saving you a lot of money and hassle throughout your transition.
Even if you're not ready to sell or buy right now, it's a good idea to make a plan and talk with a local real estate expert about your home ownership goals so you don't miss out on opportunities to enter the market, take advantage of the many financial benefits of home ownership, and protect your assets from taxes and inflation.
Ready to connect with an expert?
Buying, selling, or not sure what to do? The Tammi Montgomery Real Estate Experts have a plan for every real estate situation. Our team has decades of combined experience helping each one of our clients achieve their goals. We make it our mission to help everyone achieve their dreams! Contact us today and let us help.
Do you need more information about the state of the market in Bossier City? We can help you make the best financial decision for your current needs—give us a call today at 318-540-6108!